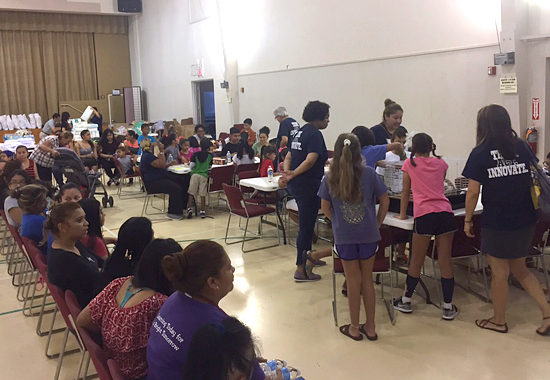 Westwood Elementary and Local Church Respond to Family Needs
(Earlier this year, we had the privilege of helping launch this partnership between Westwood Elementary and West Houston Chinese Church. Full story here – reprinted with permission from Spring Branch ISD)
In the aftermath of Tropical Storm Harvey's deluge, teachers and staff at Westwood Elementary took quick steps to assess neighborhood needs for students and families.
The school also partnered with nearby West Houston Chinese Church to provide food and clothing to families impacted by flooding.
On Sept. 2, Communities in Schools Project Manager Betsabeth Beyk and campus leaders invited families to the campus adjacent Agnes Moffatt Park to have fun, share popsicles, and assess family needs.
After determining needs, Beyk reached out to West Houston Chinese Church, who responded like a heavenly angel. A separate community event with the church was held on Sept. 5. Just three days later, a second donation was made to families.
"The church did a food drive for our families collecting milk, eggs, bread, canned goods, hygiene products, cleaning supplies, clothing, water, and many other items," Beyk said. "We hosted this event inside the gym at the church and had games for the kids to play and distributed books, school supplies, and toys to our students. In addition, Westwood teachers made around 150 sack lunches and donated groceries as well!"
Westwood Elementary was also a Spring Branch ISD feeding site for students during the storm's aftermath. Parents were provided sack lunches at the church's event so that many of them could also eat lunch with their children at the school. Many families returned to the church later to receive donations.
Reports Beyk, "I was overwhelmed with all the donations from the church and our staff… I am immensely thankful to the West Houston Chinese Church for their generosity and caring hearts. They are a true blessing to our community!"
That sentiment was echoed by Principal Kay Kennard, who noted that a second donation occurred Sept. 8 after food and other supplies came to church officials from a distribution site.
"The West Houston Chinese Church has become an amazing community partner," Kennard said. "They've also sponsored a Back to School supply drive that raised $3,000 and resulted in more than 150 packets of school supplies."
—
Want to start a life-changing partnership with a local school? Click here for information on our upcoming workshops!