In January 2015, Loving Houston discovered 72 schools that had a church partner. Today, we know of over 250 schools with church partners!* We're heading in the right direction – but with 1,470+ schools in the Greater Houston area, we have more work to do!

HOW TO SEARCH for a school near you:
Click the magnifying glass to enter your church name or address. Click enter.
Zoom out if necessary to find the closest school.
Click on an icon for information about a specific school.
Note: Schools with partners may still have opportunities for volunteers to serve. Contact the school or district directly to determine partnership opportunities.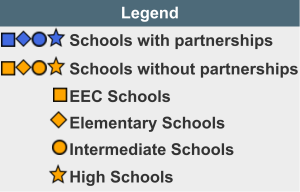 These School Rankings published by CHILDREN AT RISK offer detailed information on every school in Greater Houston. These rankings are not shared to cast judgment on the schools but to show where it might be helpful to serve. Click here to read about the ranking methodology.
* If you know of another church serving in a local school, please let us know!

Save
Save
Save
Save
Save
Save
Save
Save
Save
Save